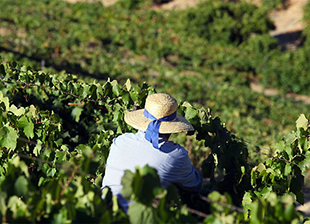 2021's Harvest
September 2021
After several warm and dry years, 2021 was characterized by moderate temperatures, particularly in the summer months. The winter months registered normal, sporadically high precipitation levels and there was some climatic instability in the spring, with thunderstorms accompanied by hail that caused damage throughout the region. Fortunately, we were not affected.

Under these conditions, the cycle started 1 to 2 weeks ahead of normal, but this advance has reduced due to the moderate spring temperatures. July and August were dry and cooler than usual and as harvest approached, we were expecting an early harvest, especially at lower altitude vines and for some varieties such as Touriga Nacional, but early September rain and the inevitable dilution in the berries repositioned the harvest date to the middle of the month. In fact, and unlike usual in recent years, the month of September was impacted by climatic instability that challenged harvest planning and execution. The experience of previous years and knowledge of the vineyards help us to schedule the harvest in order to pick the grapes at the optimum point, but the unreliable weather forecasts forced us this year to make daily adjustments.

As usual, we started the harvest with Viosinho grapes on the 28th of August and the remaining white and red varieties much later, in the week of 20th September. Since our Red is a field blend, we look for the right balance between the different varieties. Sousão and Touriga Franca were in excellent conditions, better than Touriga Nacional, which would have benefited from an earlier harvest. Códega do Larinho and Rabigato were picked at the same time and were in very good condition.

In terms of diseases, this year required special attention from those like us who are doing biological viticulture, late powdery mildews that affected Rabigato grapes in the Carvalha vineyard in Freixo de Numão had to be controlled.

In terms of quantity, production was higher than 2020, but 25% lower than 2019, a reference year. Compared to 2019, production drop was widespread in red varieties, especially Touriga Nacional. Touriga Franca and Sousão also had fewer bunches, as a result of the weather conditions at flowering. On the other hand, there was an increase in the white varieties production, especially Códega do Larinho.

In the winery, red must showed a great color and aroma, good concentration and moderate alcohol content. Rabigato and Códega do Larinho blend was very fruity and this year Códega do Larinho seems the Queen. Despite some difficulty, particularly in the harvest due to climatic uncertainties, the result promises.