The Douro wine region is located in the northeast of Portugal, is surrounded by mountains and extends for about 250 000 hectares, divided into three distinct sub-regions, Baixo Corgo, Cima Corgo e Douro Superior, each with their specificities, both in terms of climate and socioeconomic.
The total vineyard area is around 45 000 hectares, divided into the three sub-regions.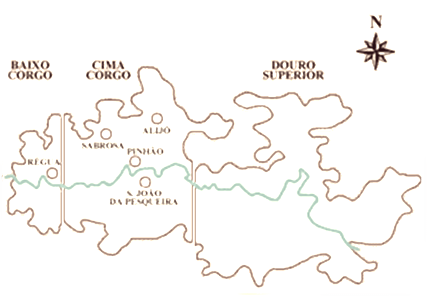 The Douro river is part of the region, with many of the vineyards around the river. About two-thirds of the vineyard area is planted on slopes over 30% slope, being the Douro region the only wine producing area in the world that practice warm weather mountain viticulture. The river is navigable long, having the Rabelo boats, tourist use today, served as means of transport of the barrels from production in the Douro, to the city of Porto.
Most of the demarcated region, particularly along the Douro valley and its tributaries belong to the geological formation of the shale, with some inclusions of a geological formation of granitic nature surrounding.
The individuality of the Douro is due to its location, being very important the influence of Marão and Montemuro mountains, serving as a barrier to the penetration of moist westerly winds. Situated in deep valleys, protected by mountains, the region is characterized by very cold winters and very hot, dry summers.
The Douro Region was, globally, the first wine region to be demarcated and regulated. Unlike other regions, the demarcation was accompanied by quality control mechanisms supported by a comprehensive legal framework and a wine classification and qualification system based on an inventory of vineyards.
The Alto Douro region produces wine since two thousand years ago, and since the XVIII century its main product, port wine, is world famous for its extraordinary quality. Besides Port wine, the vineyards of the Douro also produces table wines, white and red, of extraordinary quality, increasingly recognized and appreciated around the world.
Unlike other wine-growing regions, the diversity of grape varieties in the Douro is remarkable. The main grapes used in the Douro region include Touriga Franca, Touriga Nacional, Tinta Barroca, Tinto Cão, Tinta Roriz, Sousão etc.
UNESCO included on December 14, 2001, the Alto Douro Wine Region, on the list of places which are World Heritage Site in the category of evolutionary and living cultural landscape.
"The Alto Douro produces wine for nearly 2000 years and its landscape has been shaped by human activities."
"The components of the Alto Douro landscape are representative of the full range of activities associated with wine production - terraces, farms, settlements, roads and chapels"
"The cultural landscape of the Alto Douro is an exceptional example of a traditional European wine region, reflecting the evolution of this human activity over time."
references: IVDP -
www.ivdp.pt