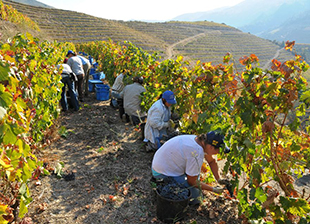 2019's Harvest
September 2019
This was the longest harvest since we started wine production and certainly one of the most demanding, especially due to the lack of manpower, a scenario that is worse year after year. It was necessary lots of patience, a continuous evaluation of the maturation and a careful analysis of weather forecasts, to be able to pick the grapes at the best moment and according to the objectives.

Winter and spring were dry, but summer was less warm than usual and fortunately without hot flashes. Maturation evolved slowly but consistently, although Touriga Franca, being a late grape, showed some difficulty reaching the intended maturation.

September had some atmospheric instability, with localized rain and thunderstorms, which fortunately did not hit us. The harvest for the Chronicle Tinto was done on the 19th and 20th September, just before the rain on the 21st. The grapes was in very good condition and no choice was required, result of a less warm summer.

There was the objective of doing a second red wine reference. We wait 3 weeks till the11th October to pick our best Touriga Nacional and Touriga Franca. Well worth the waiting, the fruit was in great condition, with great color and aromas. To follow.

After 2 years of very low yields, 2019 had a regular yield, about 3.5 Ton per hectare, very low comparing to other regions.