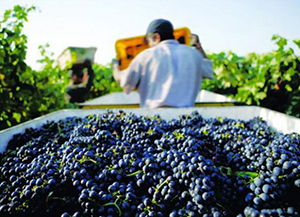 2018's Harvest
September 2018
After an extremely dry 2017, 2018 started dry, creating a great concern. But after 20 months with precipitation levels far below average, the rain finally arrived in March, sometimes strong and accompanied by hail, causing some issues throughout the region.

This rainy and cool period during the bud break and flowering period was challenging and caused significant losses in Douro and other regions. Despite the care, our vineyards also suffered from some mildew. With these weather conditions, the cycle began and remained delayed for about 2 weeks.

Finally, from July, the weather return to the season usual, dry and hot, except a few localized thunderstorms that caused some damages. Our Carvalha vineyard was hit by a short one with hail that caused some minor damages.

The weather continued hot and dry until harvest and the vines kept the leaves which has been great for the grapes maturation that was continuous and complete. The sunny days advanced the maturations and the harvest took place as usual at the end of September, with sunny weather but warmer than we would like. The White harvest took place on September 21 and the Red started on the 27th.

The quantities picked were very small, especially Touriga Nacional but the grapes were in excellent condition, especially Touriga Franca and the result was a must with great color and aromas. This vintage promises.

Human resources plays an important role in the harvest period, and this year it was particularly difficult to gather the required people. This situation happened throughout the Douro and from what was possible to understand, the competition as tourism sector, the Apple picking and the harvest in Spain were among the main reasons. It will certainly be a difficult and growing concern in the coming years.