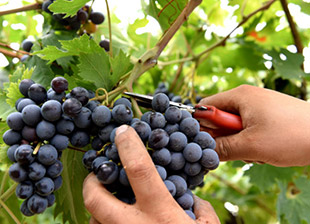 2017's Harvest
October 2017
2017 was an extremely hot and dry year. Overall, from April to September the average temperature was the second highest since 1931, only lower than 2005 and the average value of the maximum temperature was the highest since 1931. Precipitation was the second lowest since 1931, only higher than the occurred in 2005.

Our harvest was the earliest since ever. Compared to 2016, the Chronicle White harvest was done on the 25th August, one month earlier and the Red on 8th September, 3 weeks earlier.

Winter was dry and without any rain. Early Spring confirmed a Winter much drier than usual and these conditions continued in the following months. The average temperatures remained high, with some heat waves registered in April, May and June. The Summer registered very high temperatures with sequences of very hot days, with temperatures around 40º in Vila Nova de Foz Côa. Fortunately, heavy rain with hail in July in Baixo Corgo and Cima Corgo did not affected us as in 2016, but other Producers were not lucky and suffered serious losses.

These meteorological conditions led to an advance in the vegetative cycle, bud break was earlier than usual, as well as the flowering and veraison. The persistence of the warm weather during maturation period originated a rapid maturation of the grapes, that varied according to the location of the vines.

These climatic conditions were not favorable for diseases and the grapes were in excellent conditions, except the larger presence of dehydrated berries, which occurred in the bunches more exposed to the sun.

We did our first maturation control on the August 9th , that indicated an advance of about 3 weeks.

The maturation of the wines grapes in the Carvalha vineyards was exponential, for Códega do Larinho but also Rabigato, and harvest was done on the 25th August. The grapes were in very good conditions, with very good acidity, characteristic of the 600 meters of altitude with average / high sugar, characteristic of the year.

We observed slower maturation in the red grapes vineyards at Quinta da Cornalheira (350-400 meters of altitude). The short and located rainfall on the 29th August caused some dilution in the berries, which led us to postpone the harvest for the 8th and 9th September. The water had a very positive impact and the grapes were in excellent conditions. Some manual selection was made in the vineyard to exclude dehydrated bunches. Sousão is an early variety and suffered the most and required more selection, Touriga Nacional was very good and the Touriga Franca was excellent. The must confirmed the expectations, excellent aroma and color, good structure and average alcohol content.