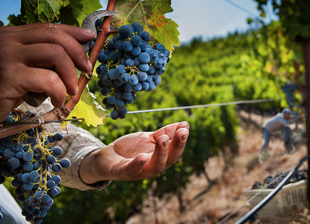 2014 harvest
september 2014
Contrarily to what was expected, the 2014 vintage was quite tricky, with the rain having a role that wasn't in anyone's plan.

After a rainy winter and spring, with precipitation occurring over several months, the soils were adequately irrigated, benefiting the plants vegetative growth.

As Summer goes on, maximum temperatures remained, with few exceptions, below 35 degrees while the nights were quite fresh, providing a balanced maturation in all aspects, aromatic, phenolic and tannins.

Shortly after the start of maturation controls, in order to determine the optimal harvest date, the weather predictions become uncertain, the rain appears and doubts about the start date arise.

After some hesitation, harvest started on the 24th September, taking advantage of a sunny period.

Although the conditions were far from ideal, the grapes were still in very wealthy conditions, no outbreaks of rot, which allow us to be optimistic about the result we will get. It's still early, we expect the near future to confirm it!